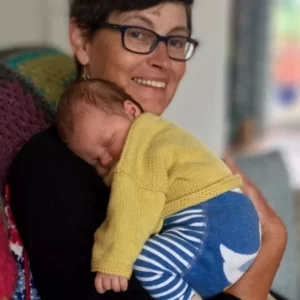 I got to meet my final fertility baby of this year
Well, what can I say?  What a day! Here's me meeting a very precious new baby.
How did this baby get here?
This time last year, this baby seemed an impossible dream for her parents. They'd been referred for IVF after an agonising 18 months trying for a baby without success. They contacted me for support, advice and information.  After an in depth consultation, we spent time recording and reviewing cycle data, which revealed some irregularaties in the luteal phase, as well as being of variable length.  We looked at the different aspects for both parents that could be impacting conception, egg and sperm health and more.
Treatments included a tailored lifestyle, supplement and a specialist reflexology plan working on the hormonal cycles to promote a balanced and healthy cycle with definite ovulation and improved post-ovulation phase.
How long did it take to get pregnant?
Within 4 months just before starting to go down the IVF route at their fertlity clinic, they discovered they were naturally pregnant!
Specialist holistic fertility support can help to reveal what's going on to stop you getting pregnant, bring balance back to cycles and provide the deep dive into some of the causes that the 1 in 6 couples experiencing fertility issues need.
When should I get help for fertility issues?
Sadly in the UK, there are criteria (I call them hoops!) you must meet in order to even get referred for fertility investigations within the NHS.  Usually you are expected to have been trying to conceive for at least 2 years if you are under 35, and 1 year if you are over 35.  Waiting lists for fertility clinics within the NHS can be quite lengthy - a first consultation may take anywhere up to 5 months from your GP referal.
You may not feel that you want to wait that long, or you may already be in the process of being referred.  I can work with you to investigate, recommend and treat for a variety of fertility issues immediately.  I am also able to refer you for further testing and investigations if I feel they will aid pinpointing any issues (eg semen analysis, blood testing etc).
My experience in this field shows me that working with my clients for at least 3 months BEFORE they start trying gives the best outcomes. If you are about to start an IVF cycle within the next few weeks, I would not offer fertility support - however, relaxing, stress-relieving treatments are ALWAYS an option!  Should your outcomes not be what you expect - come and see me, and let's take some time to look at what may be going on.
How can I help you?
I am Rowena, trained to support your fertility using a unique combination of therapies, including Gentle Release therapy, Reflexology, Nutrition, Counselling, Aromatherapy and more. I work online and in person with my clients, so distance should not be a barrier.  I help people with all kinds of issues which can interfere with conception, including miscarriage, PCOS, unexplained infertility, secondary infertility male factors and even those who are preparing for IVF treaments.  You can book a call with me today to see what I can do to support your journey to your family, or use the contact box on the home page to send me a message.
I look forward so much to hearing from you!